Sian and Jordan Fuller have continued to take reality singing show The Voice by storm.
The talented siblings – a current and former student at St Patrick's College Sutherland – made it to the semi final before being eliminated.
Jordan, who graduated from the college in 2019, and Sian, who is in Year 12, turned all four judges' chairs during the show's blind auditions and have become social media darlings since.
Their musical journey began well before they joined Team Guy Sebastian (Jordan) and Team Rita Ora (Sian) on The Voice.
"Music was always a hobby. This is exposing them to the possibility that it could be much bigger" – Mum
Jordan and Sian are alumni of Sydney Catholic Schools' creative and performing arts program CaSPA, which they joined while in Year 5 at St John Bosco Catholic Primary School Engadine.
The duo were members of both school's bands, and have written music together. Both have performed in local musical theatre productions.
"One of the things they both came back and said was that all of that experience, starting so young in Year 5, made it natural for them – especially the recording aspect," said their mum, Danielle Fuller, a music education officer at Sydney Catholic Schools.Sian plays guitar and violin. Jordan plays and teaches clarinet at primary schools.
"After they were born, I directed musicals and taught music every day and they would come with me.
"They often talk about how they didn't really have a choice; this is just innate in them.
"It's nice for me, as a mum, to see them bonding and doing so much together"
It's been a double whirlwind year for Sian, completing her HSC and competing in The Voice, all during a pandemic.
"We went along to see Jordan and they asked 'Would she (Sian) sing?'" Mrs Fuller recalled with a laugh.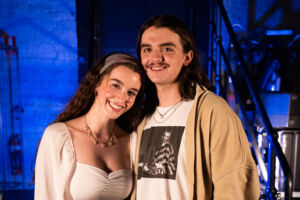 "We laughed the other night about how it has all changed."At first she said 'No, no. I'm doing my HSC!'
"The experience they get, with the sets, the costumes, and the skills that they have gained by being part of a high-level production are just fantastic.
"There's a lot of excitement about what happens next, and what decisions they make.
"They want to make the most of this opportunity."